We'll Bring Your Dream Destination Wedding to Life
Celebrating your wedding in an exotic and romantic location only adds to the excitement of saying "I do". Imagine saying your vows in an historic castle, a villa looking out to the picture perfect countryside, on a cliff top overlooking the ocean, in a tropical garden or on a beach with the whitest sand and most exquisite turquoise water. Marry Me Abroad plans overseas weddings in some of the world's most spectacular locations. Whatever your destination, budget and special requests, our professional team is here to help.
Leave Every Detail to Our Experienced Team
Perhaps you'd like to gather your friends and family at a beach wedding in Fiji. Maybe you've always dreamt of a romantic Italian wedding or a sophisticated French ceremony. Our overseas wedding planners have organised hundreds of weddings over the past 10 years for couples from all over the globe. From meeting you at your destination, to ensuring every smallest detail is correct on the day, we are committed to ensuring your day is filled with romance, beauty and lasting memories. Contact our friendly team now to explore the endless possibilities for your upcoming celebrations.
Tailor Your Perfect and Personal Overseas Wedding
Marry Me Abroad can tailor a unique overseas wedding package for your needs across a wide range of destinations. Your wedding could be small and intimate, limited to close family and friends or a lavish affair with hundreds of guests. Your personal wedding planner will guide you through your entire wedding journey, helping to arrange:
Your ideal wedding destination and venues
Your budget and number of guests
Styling and theming for your ceremony and reception
Travel plans for yourselves and your guests
Legalities and documentation
An exotic getaway for your honeymoon.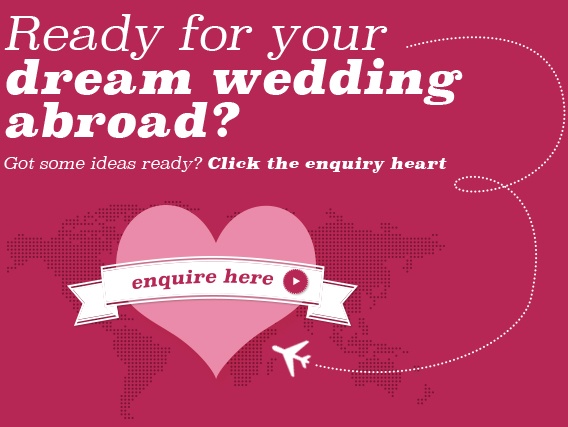 Looking for tips on planning your overseas wedding?
Weddings overseas may be intimate with just the two of you, limited to close family and friends or a lavish affair with hundreds of guests. Whatever your case find out more about overseas weddings by reading our frequently asked questions.
"…just wanted to drop you a note to say a BIG thank you for all of your assistance with our Wedding at Lake Como. Things ran like clockwork, and we were so happy with every aspect of what had been arranged, thank you so much. Real highlights were the amazing Villa this place just took our breath away, we loved it, it was incredibly beautiful, Hairdresser and Make-up Artist, they were just gorgeous, incredibly talented and meticulous, they really did an awesome job, the flowers, which were really beautiful, and of course, the Villa accommodation this was a really beautiful place to stay, we loved it. Thanks Paola for all that you and the team did to make our day so incredibly special, and 1 we will truly remember and cherish for the rest of our lives. "
"Dave and I have returned to reality! 7 weeks away was fantastic – not to mention our beautiful wedding! Portovenere was amazing. I don't think we could have picked a better place. Great food, culture and lots of stairs! We had a work out everyday. The Villa was stunning and the castle was a little fairy tale of our own. The band was fabulous! We couldn't have asked for a better group of boys. They really did make the night that extra bit special. Dave and I even got a lift home with them! Deyan and his lovely wife Tracey were great. They took some beautiful shots which we are busy looking through now. It looked like they were having as much fun as we were! All in all the week and the big day went really well. We were so happy with everything and everyone is telling us that it was the best wedding they have ever been to! Thanks again for all your help!"
"Thank you for organising such a perfect wedding for us! Sorry it's taken so long for me to thank you - once we got home it was straight back into work. Everything went so beautifully, from meeting Daniella in Rome to our final day in Varenna. The setting was amazing, with our beautiful harpist just making it seem surreal, and the staff at Villa Cipressi were so helpful and attentive. Our translator in Varenna, Clara, was also so lovely and made sure that everything ran smoothly. It truly was more amazing than we ever imagined it would be. Thank you so much."
"Planning an overseas wedding for 70+ guests is extremely exciting but also extremely intimidating... especially if you don't speak Italian! Paola & MMA helped us find the perfect villa in Tuscany for our dream wedding. I'll never forget driving through the hills of Donnini and seeing Villa Pitiana for the first time, absolutely divine! The villa itself was perfect: views of the Tuscan hills, the grand ballroom, the medieval courtyard, the beautiful gardens where we had the alfresco reception and perhaps the best food I've eaten in all of Italy! Not only was the venue perfect, but also every other service that MMA helped to organise: the hairdresser, the florist in Florence, the photographer, the group day trips to Siena & San Gimignano... Paola even helped us to organise our hen's & buck's night in Rome. "Grazie mille" MMA for making our impossible Tuscan wedding possible, we will never forget it."